loooooookiiiee looookie what I found in my mailbox today!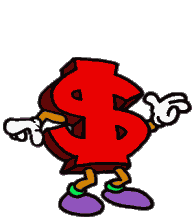 that's right the dancing cash man! lol! I got a rebate from Kelloggs today for the Blueberry Muffin Cereal rebate $3.24. I also got a $5 check from Finacea I had ordered a sample pack from them and due to an overwhelming response they had to modify the free packs. Instead I got a $5 check and a $10 coupon for my first prescription. Not bad. Also, I still have a check for $2.49 for Hunts Ketchup I never cashed and $1 Menards gift check for use in their store.

$10.73 isn't bad pay for just walking out to your mailbox! lol!