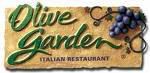 This post actually has no tag.. oh well.. Okay so my son had been begging for months to hit Olive Garden. So the last time he had an orthodontist appointment we went for lunch afterwords. We just did the soup/salad/breadstick deal and for the 3 of us the total was under $30 with tax/tip. We had such a great time I wanted to do it again and of course my pasta hound son wanted to as well.

As things would go my husband had an interview at 11am this morning, Dylan's orthodontist appt was at 12:30pm (he had off of school today) so I was hoping my husband would make it home in time to change quickly so we could jet across town to the mall. We were running late (normally we are there extremely early) but we normally have like an hour wait so we figured today is a Friday, nobody will be there, and too bad so sad we normally have to wait so they can wait this time. It worked! we got there, he went in after a 20 minute wait and it took almost an hour for him to reappear.

We had some other errands to run in the mall, returning a sweatshirt that the zipper broke on and just looking at clearance items to see if we could spot any deals.. nothing amazing we actually NEED popped up so off to Olive Garden.

We looked at the menu and I asked our waitress about the never ending pasta bowl that has been advertised like crazy on tv lately. I wasn't sure if it was a lunch or dinner item and she said both actually (I think it's the same $8.95 price though..??) so we decided to go with that. My husband isn't too hot about pasta so I suggested he stick with the soup/salad/bread sticks and he instead questioned about the meatballs or Italian sausage you can get for $1.95 with the pasta deal. In fact for $1.95 you get never ending meatballs and/or Italian sausage with your pasta!! He was sold and ordered just that.

What I didn't realize is we also got never ending soup or salad (whichever you chose) and of course never ending breadsticks and free refills on our peach tea we all ordered. It was a really great meal, however, it set us back $46 for the 3 of us with drinks. Our entertainment allowance per month is $50 so I guess we blew that in one sitting.

All 3 of us only wound up making it through one soup or salad and one bowl of pasta (and of course 3 breadsticks each) but we got to bring home what we had left which was half of that first bowl they bring out. Our waitress did tell us the first serving is a dinner sized portion so I guess that made sense.

Thought I would share how much I enjoyed this meal with my little family of 3..